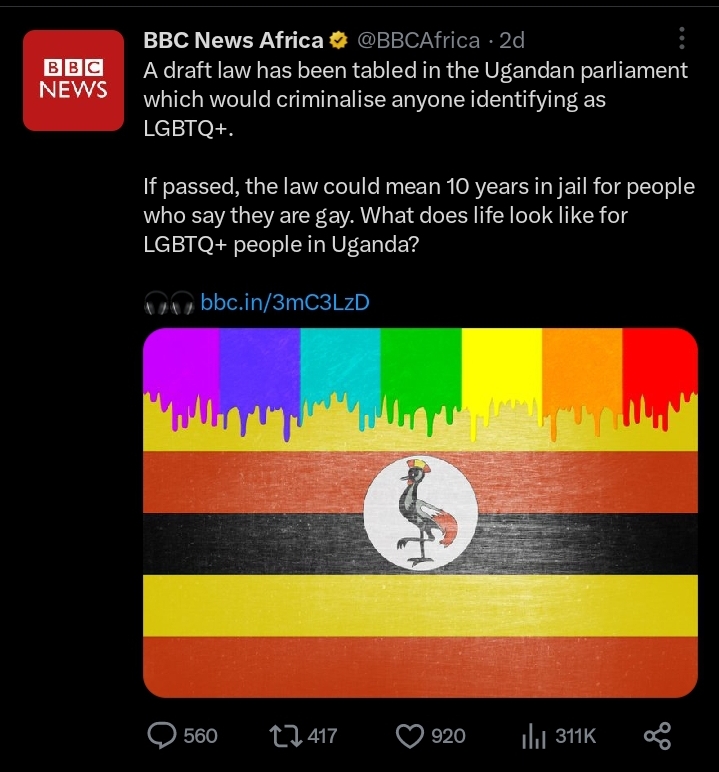 BBC Faces Criticism from Ugandans Over Graphic of LGBTQ Colors in Flag
Ugandans are outraged over a recent BBC story on the passing of the homosexuality bill in Kampala, which featured a graphic of the LGBTQ colours mashed up with the original colours of the Ugandan flag. The story, which was shared across all BBC platforms, on 12th March 2023 sparked an outcry among many Ugandans who felt that it was completely disrespectful to their national flag and the concept of Uganda.
The graphic, which appeared on the BBC's social media platforms, showed the rainbow-coloured LGBTQ flag superimposed over the black, yellow, and red stripes of the Ugandan flag. Many Ugandans took to social media to express their anger and frustration.




Namakajo Deric Fredric, a young lawyer and activist, on 14th March 2023 addressed a letter to the director general and chief editor of BBC world in London, seeking an apology to Ugandans for the disgrace caused, and the deletion of the post. In his letter, Derrick pointed out that the Ugandan flag is a symbol of the country's sovereignty and should be treated with respect.
"The BBC's graphic is not only disrespectful to the Ugandan flag, but it is also insensitive to the values and beliefs of the Ugandan people further changes the meaning and value of my Country's flag to read or be understood otherwise.," Derrick wrote. "We demand an apology from the BBC for this disgraceful act, and we call on them to show more sensitivity and respect for our country and its people in the future."
DEMAND NOTICE BBC PDF Read the letter here
The controversy has highlighted the ongoing debate around LGBTQ rights in Uganda, where homosexuality is still illegal and carries a 10-year sentence of imprisonment if found guilty. While some Ugandans have expressed support for the LGBTQ community, many others view homosexuality as a threat to their cultural and religious values.
The BBC has not yet issued a public statement on the matter.
Insight:
The Anti-Homosexuality Bill of 2023 broadens the criminalization of same-sex acts, including broad prohibitions on touching another person "with the intention of committing the act of homosexuality." People found guilty of the "offence of homosexuality" face up to ten years in prison.