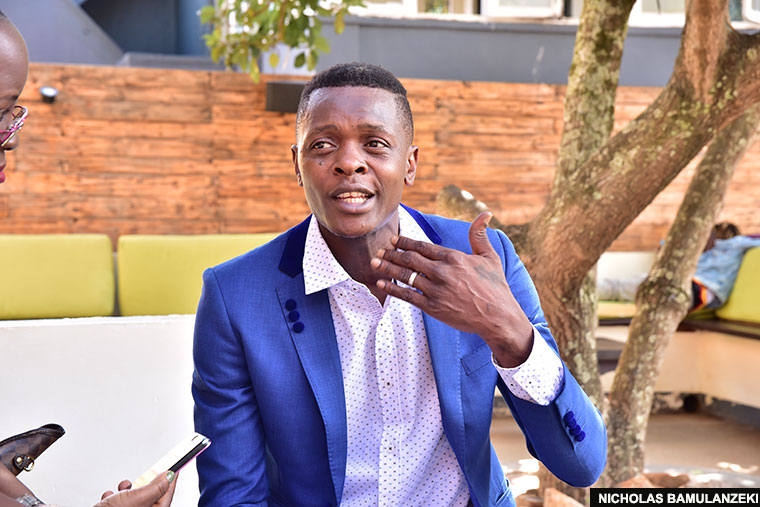 Chameleon's visit to Gulu leaves many furious
Ugandans will never stop picking quarrels on issues that do not concern them. You will find a young man in her single cubicle in Katanga advising tycoon Hamis Kiggundu on how to spend his mon. And another, who has never gone to any recording studio, commenting on how a musician should record a successful audio.
Well, the visit to Gen. Salim Saleh by singer Joseph Mayanja also known as Dr. Chameleon, a few days ago, has left many Ugandans uneasy. Most of them are puffing their lips into their noses as if this concerns them. They expressed their anger through social media where they nicknamed the singer bagger, after meeting the army general, who has been the country's bulldozer in splashing money to those that reach out to him.
Word on street has it that the singer is likely to sell off all his music for a sum of Ushs. 3billions. Some media personalities have pinned the artist for having sold his honor at such a cheap price, yet he used to carry fat pockets years ago.
"It's absurd that Chameleon who was earning over 300m from concerts 10 years ago is a beggar today. My advice to him is that he should go apologize to all people he wronged. It's those curses haunting him. Even if Gen. Saleh gave him a billion, he would still blow it up in weeks," said Tuff B, a presenter at a TV in the city.
"The reason why Chameleon is begging today is because he never planned for his money while he was still at the top…,"presenter Jacob Omutuuze said.
Responding to Bobi Wine and other critics, Chameleon told them to mind their itches and scratch them instead of dwelling on his failures.
"Those attacking me for going to Gulu should sit down their A**sses. Temundeetako kamanyiiro nakajanja, if you are hurt that I went to GULU then you can as well go to LIRA or ARUA, there are many districts in UGANDA, "Chameleon wrote.
For youths out there, you should learn that when you get money, use it wisely. Save and plan for the money to avoid being a public nuisance in the future.