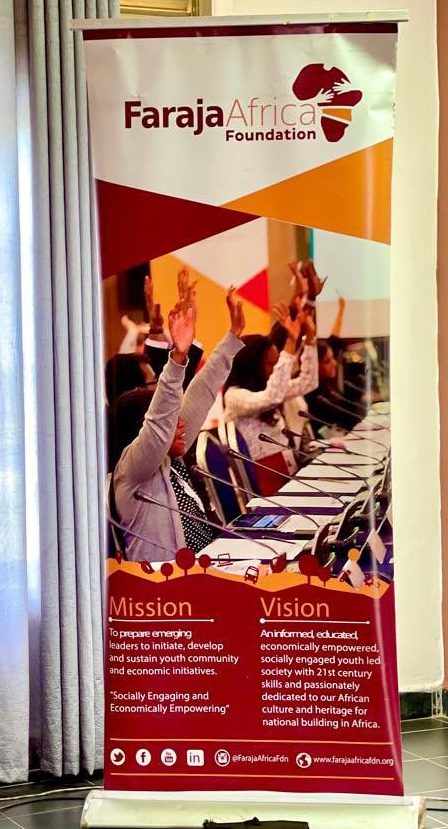 FARAJA AFRICA FOUNDATION CELEBRATES 5 YEARS IN SERVICE
On the 29th of November 2021, Faraja Africa Foundation celebrated 5 years in service. Faraja Africa was formally registered as a non-governmental organization in Uganda On 13th January 2016.
For sustainability, the model of Faraja Africa is distinctive, operating as a digital social enterprise generating revenue to fund activities related to its mission. In addition, Faraja's commitment to youth empowerment and engagement has led to numerous collaborations with funding and government agencies.
These successes have positioned Faraja as the to-go-to entity for digital storytellers, conveners, and youth-led and focused social entrepreneurs.
In response to the negative perceptions that African youths have of their continent – "Dark Continent" full of discomforts, mortality, political instability, and high poverty rates – a team of young entrepreneurs met in 2013, with a goal to showcase Africa's best-kept secret – its emerging human capital to work in the transformation of their communities.
This would in the long run move our mindsets away from the negative stereotypes of the continent with "Faraja (Swahili for comfort) Africa" acting as a change vehicle.
In her 5 years of existence, Faraja has been guided by the previous strategic plan (2017-2020) that was implemented through the strategic interventions broken down into four major programs and currently distributed under two main pillars: Democracy and good governance Pillar and Youth livelihood pillar (2017-2020). Through these programs, Faraja Africa Foundation (FAF), runs on the assumption that by breaking the poverty cycle there is a window to increase young people's participation in undertaking African problems with unique solutions, therefore, creating exposure for the increase of youth participation in democratic key decision-making processes. Faraja Africa Foundation actively involves young people from different spaces including universities students, leaders from the grass root levels to nationwide levels including regional leaders all to economically empower and socially engage youth leading African communities.
Summary of Achievements
1)Policy advocacy: Faraja's Parliamentary youth advocacy campaigns resulted in the tabling of 14 bills on the floor of Parliament, of which over six have passed. Prior to the 2021 elections, FAF created civic awareness through hosting 10 safe civic platforms where over 150 young people across the four regions in Uganda were engaged in key topical issues around elections, roles and responsibilities, and conflict resolutions. At least 20 of our participants won elections on the National Youth Councils, Student Guild Councils, District Youth Councils, and basic local councils hence increasing youth participation in key decision-making processes.
2)Youth economic empowerment: 297 young people were trained in entrepreneurship for the last four years and 25 youth received a start-up fund through a pitching process to kickstart their business ideas. 10 out of the 25 youth have been able to sustain their businesses to date and 3 out of 25 young people have been able to create community-based initiatives, hence contributing to the development of their communities.
3)Youth engagement: Faraja Africa conducted several successful advocacy campaigns, amplifying views of over 9 million young people on the need for increased investment in youth development. These ideas were later summarized and shared through the 9th Commonwealth Youth Ministers Meeting.
4)Capacity building of policymakers: Members of Parliament representing ten districts received comprehensive training on engaging with them constitutes using creative mechanisms. In addition, the training also entailed community-focused leadership, communication, community organizing, and financial management. To date, seven districts formed community networks through which community engagement and development are occurring.
5)Youth exchange program: Faraja successfully organized East African Youth Camp. Over 21 leaders spanning the 3 East African countries met to discuss how to develop sustainable development programs. Through these interactions, various actions were undertaken for the multi-national building such as the World Heritage Volunteers' Initiative and the International Youth Camp, through which over 120 young people were trained on sustainable economic and heritage management. As a result, youth have geared their efforts to promoting and conserving their World Heritage sites, culture, and the environment through engaging in activities such as tree planting of over 186 trees
While celebrating 5 years of existence, the founder of Faraja Africa Foundation Mr. Wabwire Emmanuel appreciated the different stakeholders who have supported the organization and enabled it to achieve a number of milestones. He noted and said, "at Faraja, we don't have money but rather billions of passion."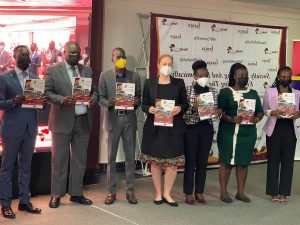 The foundation launched its new strategic plan for the next 5 years at a function that was attended by various dignitaries from different organizations including the National Youth Council, GIZ, European Union, Ministry of Gender Labor and Social Development, and many others.