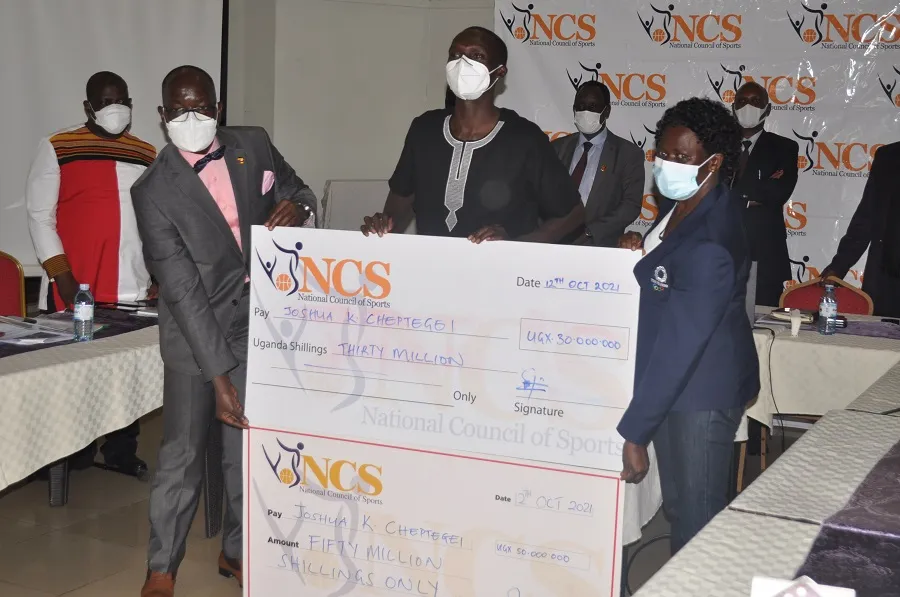 Government financially appreciates the 2020 Tokyo Olympians.
The government of Uganda has come forth to appreciate the efforts of the Olympics team that represented the country in Tokyo 2020 Olympics games. The 25 athletes who participated in these games have at least received a financial boost according to their performance.
The ceremony was held at the National Council of Sports (NCS) in Lugogo yesterday 12th November 2021 whereby the State minister of sports Hon. Denis Obua, Commissioner of physical education and sports Duncans Mugumya, General Secretary of the NCS Dr. Bernard Patrick attended.
for the big names that represented Uganda in the Tokyo games, double Olympic medalist Joshua Cheptegei (gold and Silver), Peruth Chemutai (gold), Jacob Kiplimo (bronze) and the para Olympics bronze winner for the T1500m David Emong were all present at the event.
For every gold medal won, was rewarded shs 50,000,000/=, a silver medal was rewarded shs 30,000,000/=, bronze worth shs 20,000,000/= and the rest participants were given shs 1,000,000/= each.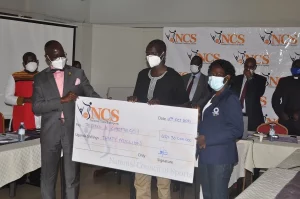 Therefore, Cheptegei's gold and silver medals had him take home shs 80,000,000/=, Chemutai pocketed shs 50,000,000/= and finally Kiplimo and Emong took home shs 20,000,000/= each for their bronze medals. As stated earlier, the rest of the participants bagged shs 1,000,000/= each.
The 80,000,000/= holder Cheptegei praised the government of Uganda for the financial boost and he promised to continue making the pearl of Africa proud by winning more accolades.
"I am very humbled for the Government of Uganda for this motivation of money given. On behalf of the rest of the athletes, we are much honored and promised to maintain the training regime as we plan for the next engagements ahead of us. I also wish to thank the other people who helped us in one way or another and the media personnel too" Cheptegei said.
Below is a list of athletes that represented Uganda in the Tokyo 2020 Olympics games.
Athletics:
Esther Chebet, Sarah Chelangat, Albert Chemutai, Prisca Chesang, Ronald Musagala, Winnie Nanyondo, Halima Nakaayi, Joshua Cheptegei, Jacob Kiplimo, Oscar Chelimo, Stephen Kissa, Peruth Chemutai, Mercyline Chelangat, Immaculate Chemutai, Juliet Chekwel, Stephen Kiprotich, Filex Chemongesi, Fred Musobo, Shida Leni
Boxing:
Catherine Nanziri, Musa Shadir Bwogi, David Kavuma Ssemujju
Rowing:
Grace Kathleen Noble
By Hillary Asasira