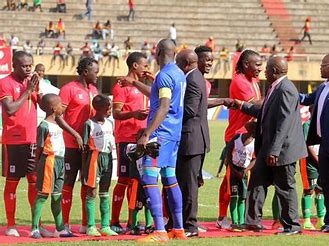 Uganda Fails to Qualify for 2022 World Cup
Ugandans on social media are disappointed in FUFA president Moses Magogo after Uganda Cranes failed to qualify for next year's world cup in Qatar.
The angry netizens asked Magogo to resign because he has failed to elevate the country to a next level in the country's  football history. A number of them took to their social media handles to show their disappointment.
"Magogo should resign.Cant explain why we had a chance to qualify for this year's world cup and still failed. Chance blown. This could have been easiest group. And we are stuck with poor results and performance as he comfortably clings onto Ugandan football as a personal business," Electoral Con-mission tweeted.
"Magogo ended it before it started," Nyombe Henry wrote.
Several others also requested the Coach Micho be sacked and replaced by Sebastian Desabre.
"Am sorry to say this, but the fact is Micho should pack his clothes and look for the way to go, we can't remain the same, let Sebastian Desabre come back," Mpindi Ubayda replied to a tweet.
" Bring back Sebastian Desabre. He was an amazing coach," Herbertnash said.
Uganda's road ended after the draw with Kenya. A loss to Mali last Sunday awakened the disappointment on Thursday
By Hussein