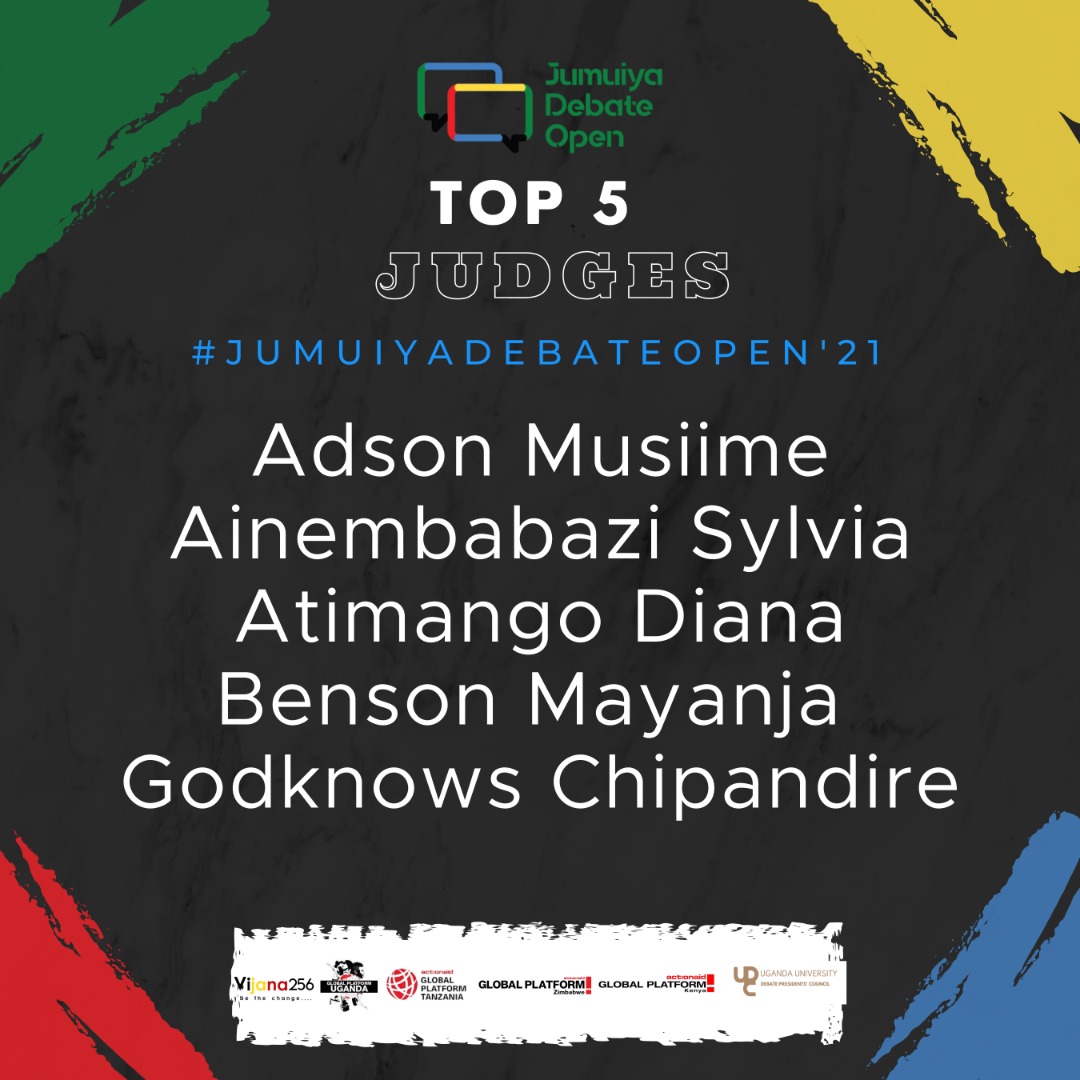 Jumuiya Debate shines amidst the pandemic
By Daniel Olara
The Jumuiya debate had over 100 debate teams, with 50 Adjudicators and scores of participants in the poetry and public speaking tracks hailing from Uganda, Kenya, Tanzania and Zimbabwe. Since its first edition in 2020, the tournament has grown to be a fixture on the African debate circuit.
The organising committee has successfully prepared the tournament and seen it to the end. It comprised of Uganda University Debate Presidents Council and Vijana256 convened with support from Action Aid Global Platform Chapters in Uganda, Kenya, Tanzania and Zimbabwe, and was held virtually from 7th to 12th August 2021 on Discord and Zoom.
The pre-tournament activities that started on 12th July included social media posts, training participants, webinar conferences and twitter spaces elaborating on the theme. These conferences explained the impact of climate change on the youth in the current situation, the food systems and solutions to all the problems.
Jumuiya appointed Chief Adjucation Panel from East and Southern African countries, having Molly Jael as the chief Adjudicator. The whole adjudication team was consistent, fair and just since there were no complaints and also the fact that all countries were represented well.
The Jumuiya Debate Open is geared towards nurturing leadership, good governance and promoting intellectually guided debate in Africa. The theme for this year's edition of the tournament was _Young People at Crossroads – Realising the Right to Adequate Food and Decent Living Amidst COVID-19 and Climate Change_ . It was inspired by the International Youth Day theme for 2021; _"Transforming Food Systems: Youth Innovation for Human and Planetary Health"_ and will centre its discussions on the right to food, COVID-19 and climate change, particularly on how these issues affect young people, and how they can be collectively addresed.
The winning teams were awarded, that is Thanos as the winners and JohnWick as the runners up. The best speaker in debate is Angelo Sewanonda, second best is Raymond Nyash Moyo, and the third best is Magoba Rapheal. In Poetry, the best poets are Namare Alyce, Mwima Ivan and kairu Karega, and in public speaking, Aloikin James Opologye, Enesu Matongo and Bryan Kay. Jumuiya top five Judges are Adson Musiime, Ainembabazi Sylivia, Atimango Diana, Benson Manyanja and Godknows Chipandire. Jumuiya celebrates all the winners.
We are delighted that, even during these challenging times marked by the COVID-19 pandemic, we are still able to gather young people to engage intellectually on issues pertinent to our societies and wellbeing.