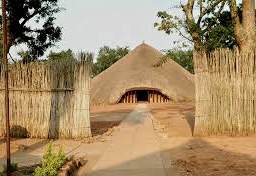 Historic Victory for Ugandan Heritage: Tombs of Buganda Kings Removed from World Heritage Danger List
In a resounding victory for Uganda's cultural heritage, the Tombs of Buganda Kings have been officially removed from the UNESCO World Heritage in Danger list. This momentous decision, reached during the World Heritage Committee's meeting in Riyadh, Saudi Arabia. This marks a pivotal chapter in the site's storied history. In the landscape of Kampala, these grass-thatched buildings have long held a cherished place in the hearts of the Baganda people, and their restoration is a testament to the power of global cooperation.
Designated as a UNESCO World Heritage Site in 2001, the Tombs of Buganda Kings faced a setback in 2010 when a destructive fire at the site. The subsequent years witnessed a serious journey of reconstruction, fueled by international support and local dedication. This incredible effort culminated in 2023, as the Tombs returned to their cherished state of conservation, reborn from the ashes.
UNESCO official described this accomplishment as a collective success story, highlighting the unwavering commitment of Ugandan authorities, heritage professionals, and local communities. The Tombs' revival is not only a testament to their intrinsic cultural value but also a beacon of hope for safeguarding endangered heritage sites across Africa and the world. With nearly half of endangered sites located on the African continent, this triumph sends a powerful message about the importance of preserving our shared cultural treasures for generations to come.