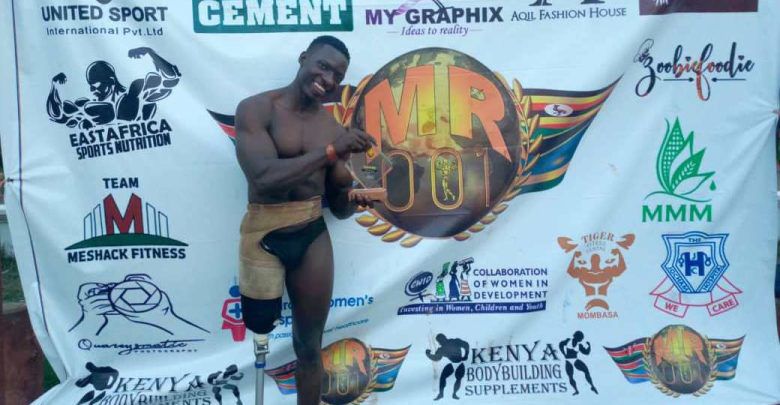 Tamale Safaru Wins Award In EAC Body Building Tournament
Uganda's Tamale Safaru was awarded in the EAC Bodybuilding tournament that took place on the 11th day of December 2021 at the Coast Gymkhana cricket grounds.
The first edition of the East African Community Mr. 001 2021 Body Building tournament sponsored by Kenya bodybuilding supplements among other corporate institutions like Mombasa cement. Participants were from the East African Community states of Uganda, Kenya, Tanzania, South Sudan, and Rwanda.
Uganda fielded participants in the various categories which included; Bantamweight, Lightweight, heavyweight, and Welterweight. Uganda was the first East African Country to field the first-ever Person With Disabilities, 28-year-old Tamale Safaru who was awarded a medal and prize after emerging among the top in the Bantamweight category.
Safaru was also recognized for his courage to show up and inspire others that are faced with various physical handicaps.
Uganda also emerged victorious through participants Lamech Muwanga (in the Lightweight category) and Hakisam Kisekka (in the Bantam Category).
Others that participated include; Christopher Mutyaba, Yakubo Bin Hassan (Mr. Physique- Uganda), Farook Miyagi, Godfrey Lubega, and Fathil Katumba.
Coach Faisal Katumba and the participants called upon the Government of Uganda and the private sector to invest in talent development through sports and creative arts as a way to engage the youth.
A vote of thanks was given to Rosefoam Uganda, Hearts Extended Uganda, and Redemption Youth Initiative for facilitating youth and Persons with Disabilities to participate in the tournament.