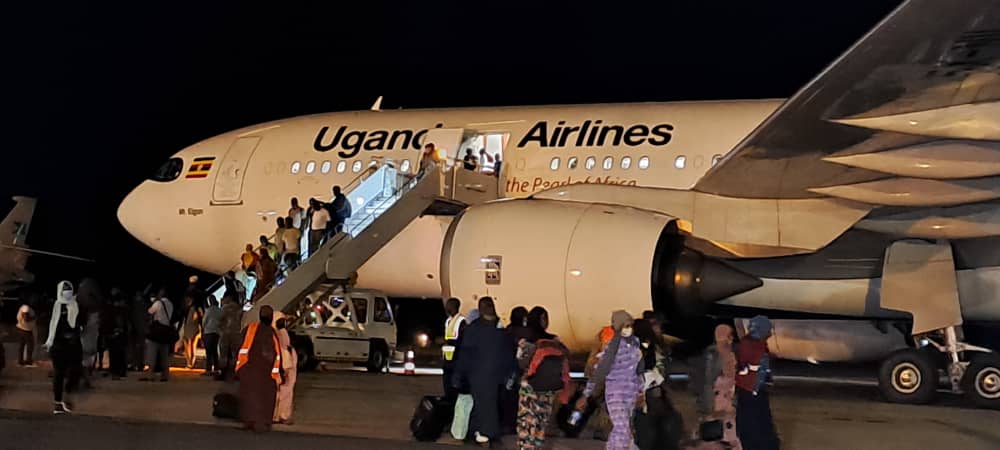 211 Ugandans Repatriated from Sudan, Arrive Home Safely
Early this morning, 211 Ugandans arrived after being repatriated from the Republic of Sudan. The successful evacuation was commissioned by President Kaguta Museveni and overseen by the Senior Presidential Adviser for Special Operations.
The evacuees, including diplomats, students, and business expatriates, arrived at Entebbe International Airport at 02:30 am aboard Ugandan Airlines from Bahir Dar Airport in Northern Ethiopia.
The returnees were received by General Kainerugaba, the designated supervisor of the special evacuation operation, on arrival.
The operation was led by Ambassador Joseph Ocwet, Director General of ESO. Speaking to the press, Ambassador Rashid Yahya Ssemuddu, the Ugandan Ambassador to Sudan, expressed his gratitude to the Ugandan government for their efforts in evacuating the citizens.
Ambassador Ssemuddu revealed that out of the total 300 Ugandans who were in Sudan, 211 were successfully repatriated. The remaining 89 were assisted by the Saudi Embassy, UN, or crossed the Ethiopia-Sudan or Southern Sudan border. He added that the embassy is in constant contact with the remaining 50 Ugandans to ensure their safe return.

The repatriation exercise was necessary due to the political and economic instability in Sudan, which posed a threat to the safety and wellbeing of Ugandan citizens residing there. The Ugandan government, through the embassy in Sudan, had issued several advisories urging its citizens to leave the country. The successful repatriation of the 211 Ugandans brings hope to the remaining citizens who are yet to return home.